Baseball Camps 2022 on 7/25/2022
Date/Time:
Mon, Jul 25 2022 at 9:00 AM
Event:
Baseball Camps 2022
Event Info: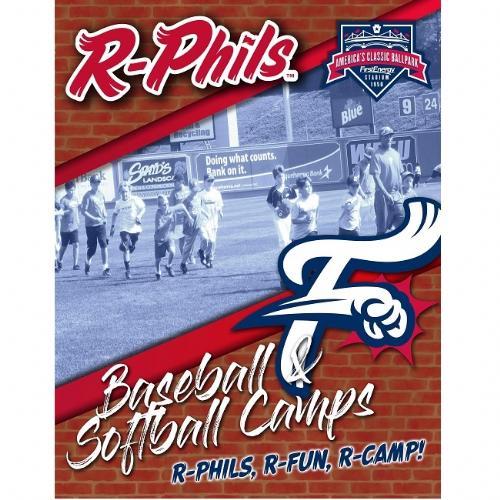 July Camp: 5-Day Business & Baseball, Ages 8-12
Dates: Monday, July 25th - Friday, July 29th
Registration: 8:30 AM - 9:00 AM (Day 1)
Instruction: 9:00 AM - 12:00 PM
Lunch: 12:00 PM - 12:45 PM (Lunch not provided)
Business of Baseball: 12:45 PM - 3:00 PM

Description:
The Business & Baseball Camp is a week-long camp, geared towards boys and girls Ages 8-12. Campers will spend their mornings taking professional baseball instruction from local high school coaches.. In the afternoon, they will get an inside look behind the scenes of the baseball industry. Campers will get a one-of-a kind experience exploring and creating promotions, on the field events, and learning about the sports industry from R-Phils front office staff! Each camper will receive an R-Phils 2022 Camp T-shirt and 2 general admission tickets for an R-Phils home game.

BASEBALL/SOFTBALL CAMP PRICING
$200 - One Child
$195 - Two - Four Children
$190 - Five - Eight Children
$185 - Nine or More Children

* NO REFUNDS
* Must be ordered in advance
* $1.50 per person order fee will be added to your order

Please contact Stephen Thomas with any question at 610-375-8469 ext. 213 or at sthomas@fightins.com

BENEFITS BASEBALLTOWN CHARITIES - Helping More Kids Play Baseball - a portion of all proceeds benefit Baseballtown Charities, and will assist with underprivileged kids attending this camp, and/or other Baseballtown Charities Camps.